The weather was spectacular, the hosts (Christian and Marci Bench, Meadowridge Farms) were great and there was a nice turnout!
We started with a tour of the facilities, starting with a peek at the ewes and lambs the Bench's are raising. One of their successes is selling to a restaurant in Philadelphia.  They have a standing order of 8 lambs per week, but they must be of uniform size/ weight and the lambs must not have had any issues when growing up or the quality of their meat will be impacted.  Not an easy job!  They have also been experimenting to find the best cross breed that works for them.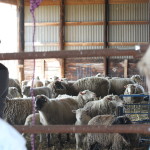 There are also cows raised for meat here too.  They are beautiful!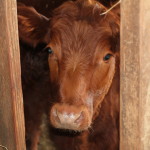 Next there was more discussion about marketing lambs in front of the pens holding older lambs.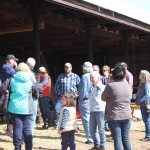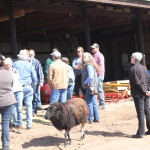 The final portion of the tour included a discussion of the programs available to farmers from the USDA.  These include many areas from micro loans, Ag Management Assistance Program (AMA), no till methods, Northern NJ River Friendly Farm Program and environmental quality (EQIP) cost sharing agreements to list a few.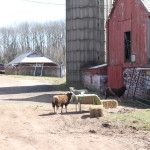 We also walked through the on-site Bed and Breakfast run by Tullamore Farms.  The Cooking School was running a children's event so we did not disturb them to tour the kitchen.  A lovely picnic lunch was held in front of the B&B followed by a general business meeting.
The next meeting is scheduled for the 1st half of June and a volunteer is sought to hold the meeting.  If you are a Northern or southern NJ or PA member who would be willing to host the meeting, please contact Eunice Bench as soon as possible.